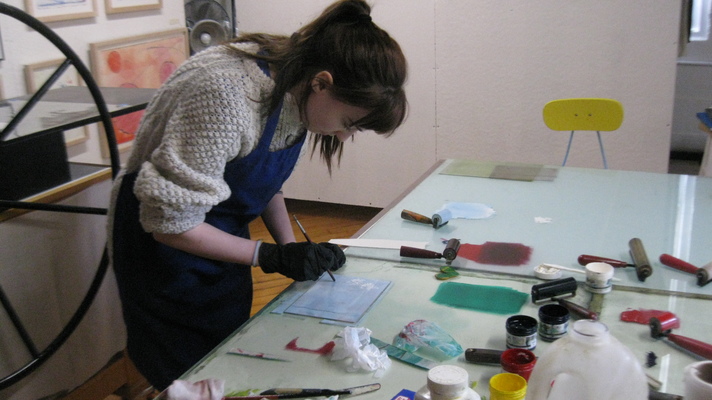 MONOTYPE PRINTMAKING WORKSHOP, Saturday March 3, 9.30 am - 3:30 pm, $160 per class, includes AKUA printmaking inks, paper, and materials. No Experience Necessary! Three students maximum per class!
Please contact me for my address, or email
bridge.arts.1@gmail.com
to reserve your spot for the class!
The next workshop after March 3 will be Saturday April 21.
Have you ever wanted to make a monotype print? Monotype prints are one-of-a-kind prints, all unique! Imagine painting on a sheet of plastic, placing paper over it, then running it through my printing press. Voila, the image comes out on the paper in reverse to how you painted it. Come have fun and play with water-based AKUA inks, brushes, stencils, and different papers to create your one-of-a-kind prints using my printing press.
No experience necessary
with the printing process;
three students maximum per workshop
means personal and attentive attention from the teacher.
We will begin with introductions with students sharing goals for the class, following up with looking at examples of monotype prints, then finish the morning with a discussion regarding the printing process and technique on the press. We'll take a short break, then launch into printing in the afternoon until 2.30 pm. Clean up with vegetable oil / soap and water is simple, because we use AKUA inks!
The next class is
Saturday March 3
...$160 includes all materials (
Saturday April 21 will be the next workshop after March 3
). We will work on 8" x 12" sheets of plexi-glass which will remain in the studio. You may also bring your own paper if you like. This workshop takes place at One Cottage St., #415, Easthampton, MA. Please contact me at
bridge.arts.1@gmail.com
if you have any questions. Thank you!